Recipes from the Waste-Free Kitchen—Nut Milk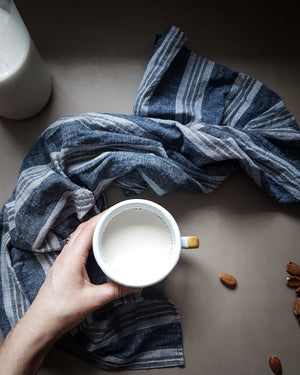 In a previous entry we introduced this series—Recipes from the Waste-Free Kitchen—a focus on recipes that you can easily make at home to avoid purchasing packaged versions at the store. They are staples in the whole-food kitchen, are easy to make, and delicious! We make a batch of plant-based milk weekly in our home with a variety of nuts and seeds. The process is simple—all that is required is a little planning, a nut milk bag and a blender. 
SOAKING TIMES
Almond: 8 hours
Walnut: 8 hours
Hazelnut: 8 hours
Cashew: 4-8 hours
Pumpkin Seed: 8 hours
Use pure, chlorine-free water if possible.
MAKING MILK
Using the soaking times, soak 1 cup nuts/seeds for required time (typically this is 8 hours—it works well to soak nuts either before bed or before leaving for work).

Drain and rinse the nuts.

In a powerful blender, combine the nuts/seeds along with 4 cups of fresh water, a pinch of Himalayan salt, and any other ingredients you choose to use. Blend for 45-60 seconds.

Place your nut milk bag in a bowl or large measuring cup. Pour the contents of the blender into the bag, and then squeeze firmly to remove as much milk as possible.

Pour into a seal-able glass jar and store in the fridge for up to 5 days.
NOTES: It is normal for homemade milks to separate as there are no homogenizers or thickeners added! Simply stir or shake prior to serving.
ADDITIONS
Get gourmet by adding one of the following to your blended and strained milk:
Strawberry: Add 8-10 large strawberries, 1 tsp. vanilla and 4 dates. Blend well. 
Chocolate: Add 4 Tbsp. raw cocao (unsweetened cocoa is ok too) and 2 Tbsp. maple syrup, or to taste. Optional: Add maca powder for an energy boost, or espresso (or both!). 
For Pumpkin Seed Milk: Add ¼ tsp. salt and 1-2 tsp. honey.
Vanilla Maple: add 1-2 tbsp maple syrup + 1 tsp of vanilla bean powder (or extract).
WHAT TO DO WITH THE PULP
Reserve the Pulp for Later Use—Making Nut Meal / Flour:
Spread the pulp evenly on a large baking tray. Place in the oven at the lowest possible setting and allow to dehydrate. Turn the pulp over with a spatula every half-hour or so. Time to completion will vary depending on how 'wet' your pulp is.

Once completely dry, remove the tray and let cool. Once cooled, pour the nut meal into a food processor and pulse until finely ground.

Store in an airtight container and use for gluten-free baking.
NOTE: Harder nuts like almond or hazelnut work best for this. Cashews are quite fatty and hence the pulp is finer and doesn't dehydrate as well. I recommend using it wet.)
Immediate Use:
There are dozens of ways to use the wet nut pulp. (You can store the pulp in an airtight container in the fridge for a day or two if you aren't going to use it right away.)
Here are a few of our favourite recipes!
Raw Nut Pulp Hummus

Ingredients: 
1 ¼ cup nut pulp
1 fat clove garlic 
4 Tbsp. lemon juice 
2 Tbsp. water 
4 Tbsp. raw tahini
1 tsp. ground cumin 
¼ tsp. crushed chilies or cayenne pepper 
pinch sea salt + pepper
Directions: 
In a food processor, pulse to mince garlic. Add everything but the nut pulp and blend until creamy.

With the motor running, slowly add the nut pulp a few spoonfuls at a time until you have everything well blended. If desired, add more water, one tablespoon at a time, until the desired consistency is reached. 



Serve. Store leftovers in an airtight container in the fridge. (Remember that the nut pulp will last for up to seven days, so make your hummus quickly after the nut milk!)
Raw Beetroot Dip/Spread—from Raw Food Detox by Anya Ladra 
Ingredients:
1 beet (peeled)
1 small red bell pepper (seeded)
1 Tbsp fresh ginger
cashew nut pulp (1 batch)
1/2 cup raw cashews
2 Tbsp. olive oil
2 Tbsp. soy sauce
2 Tbsp. apple cider vinegar
1 Tbsp. maple syrup
Pinch of salt
Directions:
Put all the ingredients in a food processor and process until smooth. Serve chilled with crackers.
Raw Cacao Energy Bites
Ingredients:
Almond pulp (from one batch of nut milk)
1 cup shredded unsweetened coconut
4 heaping tablespoons raw cacao (unsweetened cocoa powder also works)
10 pitted dates
2 tbsp almond butter (any nut/seed butter will work)
2 tbsp coconut oil, melted
2 tsp vanilla extract
1 tsp sea salt
Raw hulled hemp seeds or coconut sugar, for rolling
Directions:
Combine all ingredients except hemp seeds in a food processor and pulse until well mixed.

The mixture should be moist enough to hold together when pinched. If it feels too crumbly, add more almond butter or coconut oil.

Roll the mix, two tablespoons at a time, between your palms to make balls.

Place the hemp seeds in a small bowl. Roll each ball in the seeds to cover. Store in a sealed container in the refrigerator.