Waste-Free Holidays—Wrapped With Care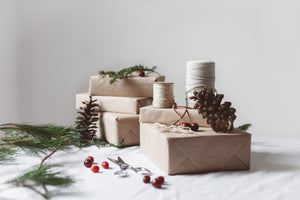 A thoughtful presentation for Christmas gifts builds anticipation and makes it all feel that much more special. That said, wrapping presents is, in and of itself, a rather wasteful activity—in fact, half of the paper we consume annually is used to wrap gifts which is perfunctorily thrown out hours later  (540,000 tonnes of wrapping paper and gift bags are thrown out by Canadians each year) and lots of wrapping paper is unrecylable because it's coated to make it glossy, has foil or glitter or is made of mixed materials. And it's not just paper: If every family in the US reused just two feet of holiday ribbon, the 38,000 miles of ribbon saved could tie a bow around the entire planet. What a thought! Or what about the 2.6 billion Christmas cards and six millions rolls of tape that are also consumed?
While these thoughts of excess and waste are certainly sobering, we have lots of ideas on how to give gifts wrapped beautifully and with thought not just to the recipient, but to the planet as well. It makes me feel good, wonderful in fact, to make use of natural and sustainable goods, many reused, and still have gifts turn out beautifully. For this feature, photographer Lauren Kolyn teamed up with Marie Claire Gagnier, an artist and yoga teacher who takes special pleasure in gift wrapping, to bring our ideas to life. So take a peek and get inspired by these nature-themed parcels. Brew up a hot cup of something wonderful and crank up the holiday tunes. Use what you have to recreate these special packages already at home or just outside your door. Get creative and enjoy!
Brown kraft paper is one of our personal favourites for wrapping as the neutral backdrop just begs to be adorned. You can easily purchase post-consumer recyled kraft paper, and it is 100% recyclable afterward. You could also do one better and resuse large, brown paper shopping bags or packing materials from a package received in the mail. Wrinkles in the paper simply add charm! (Drop by the store, we've been saving some just for this purpose!)
Natural greenery makes a perfect accent. Since you are simply cutting sprigs, a little will go a long way. Often you can even find what you need littering the ground around large pine, spruce, hemlock and cedar trees. If not, simply snip a small branch at a node (where a small branch off-shoots the main stem) since this is where regrowth will occur.
String is needed to tie on gift labels and afix the greenery or decoration. The sustainable choice here is something that will readily biodegrade. We like natural, unbleached cotton string (like butcher string), jute or hemp twine, or even a thin piece of leather or ribbon that you can reuse year after year. 
Tape is generally plastic and tricky to peel away for recycling. We suggest either paper tape or washi tape in a frosty white. Our favourite method, however, is careful folding of the paper and string wrapped with care to keep the boxes covered, with no tape needed at all!
Note: If you do use materials that can easily be reused, first offer them to the person receiving the gift explaining that they could recreate this look next year, and if they choose not to keep it, then you can reclaim it yourself.
Birch bark is another beautiful accent. All that is required for this is a few, papery wisps which should not harm the tree but please take care when harvesting birch bark. In this case, if you can't find any on the ground, find wispy pieces that have curled away from the main bark and use scissors or shears to snip them away rather than peeling off more bark which can harm the tree. A snip of bark can easily be written on to double as a gift tag.
Pinecones of course are readily available in all sizes. Simply hunt around the base of large conifers or keep your eye out for them throughout the year to be saved. You can also purchase them from florists and nurseries.
Other natural elements that make a lovely accent are cranberries, dried orange slices, star anise, or cinnamon sticks!
Eucaplyptus makes another beautiful accent, both the regular and seeded variety. While certainly not local, it is readily biodegradable and the silvery hues are lovely and festive. Individual stems can be purchased from any florist. You can also hang them to dry so they can be reused next year as it should keep its colour.
Dusty miller as Marie Claire has used here is another silvery green plant that makes a beautiful accent. You can also use a different type of hardy green like sage leaves or rosemary.
Furoshiki, the Japanese art of wrapping gifts with fabric, is of course another way to cut down on waste. Tea towels are a good choice (especially linen ones) but that is a more expense choice despite the fact that the wrapping becomes part of the actual gift. You could upcycle an old pillow-case or table cloth (simply cut the fabric with pinking shears to avoid fraying). Another favourite choice is vintage scarf squares which can often be found for a dollar at thrift stores. Keep an eye out for them throughout the year! 
And last but not least, a sustainable gift-wrap feature would not be complete without recycling newsprint or magazine pages. It's a classic in my household and Jonathan even fashions ribbons and bows by folding the paper. To achieve a neutral, pleasing gift wrap that isn't too busy, choose pages with nothing but print in black and white. Or, go for something fun and save the funny pages throughout the year!
CONTRIBUTORS & CREDITS:
LAUREN KOLYN, Photography: Lauren is a lifestyle and editorial photographer based in Montréal and Toronto, Canada. With a documentary approach to her photography, Lauren is a visual storyteller with a unique ability to capture the essence of the moment. Drawing much of her artistic inspiration from the natural environment, Lauren's photographic work explores the modest yet powerful beauty of her surroundings. View her work, follow her on Instagram.
MARIE CLAIRE GAGNIER, Gift Wrapping & Styling: Marie Claire is a Montreal-based artist and yoga instructor who is inspired by the simplicity of nature and its fine effortless details. She believes that there is an abundance of beauty that surrounds us everyday and that it should never be underestimated. Marie Claire is passionate about all things creative and sustainable and has always had a (secret) knack for gift decor. She was thrilled to have an opportunity to collaborate with Pure Green & Sustain on this feature as a means to encourage meaningful gift giving, minimize single-use design and advocate the true brilliance of re-purposing, ingenuity and creativity!