Make | Herb Infused Salt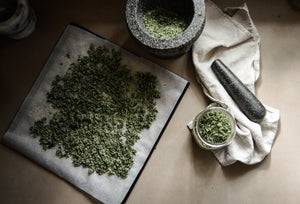 IF YOU GROW CULINARY HERBS in a container or the garden, this time of year they are likely exploding and ready for a hard cutting back so they keep going well into fall. Making herbed seasoning salt is a great way to use up the excess and preserve it for winter. Salt also helps to enhance the flavour of the herbs. You can create a single herb salt, or mix it up with complimentary herbs if you like. 
Herbs are an amazing source of antioxidants, and drying the herb concentrates the medicinal compounds on the plant. Woodier, tougher herbs dry and preserve best. Good options for making an herb infused seasoning salt would be marjoram, oregano, thyme, rosemary or sage.
The process couldn't be simpler. Here are the steps.
1. Gather the herbs on a bright sunny day. Avoid washing them as water can wash away some of the oils and flavour in the delicate leaves. 
2. Place in a food processor and pulse until finely chopped. Scoop into a bowl, using a spatula to capture all the juices.
3. Using a 1:2 (herb:salt) ratio, add coarse sea salt to the herbs (we like using coarse gray sea salt by Maison d'Orphee), massaging by hand until the salt is well coated and the herbs are evenly distributed.
IF USING A DEHYDRATOR:
4a. Line the dehydrator screen with parchment paper or use a silicone liner if you have one. Place in the dehydrator on the lowest setting until the salt is dry to the touch (4-6 hours).
IF USING AN OVEN:
4b. Evenly spread the herbed salt mixture onto a cookie sheet. Place in the oven at the lowest setting 170-200 degrees Fahrenheit. Bake until dry, 20-30 minutes.
5. Once dry, the salt mixture may be clumped together. Transfer the mixture to a mortar and pestle to gently break apart, or bash it gently on the tray using the base of a heavy pan.
6. Transfer to an airtight glass jar and store in a cool, dry place out of direct sunlight.