Recipes for the Waste-Free Kitchen—Hummus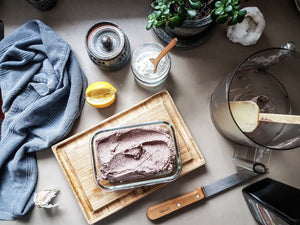 Our personal journey towards achieving a low waste kitchen has traveled in tandem with eating well. These are two areas of passion for Jonathan and I, and as a result we live in our kitchen (happily, most days!). There is a fortunate correlation between eating whole foods and eliminating waste—gone are the days of pre-purchased, packaged snacks. These days, we purchase raw ingredients at bulk food stores primarily and prepare foods from scratch. It may seem intimidating and time-consuming at first, but our suggestion is to start slow and master one thing at a time. For us it has led to increased connection with our food, pride in what we eat and that we made it from scratch, better health, confidence in the kitchen, and so much more! 
To get started, figure out what things you buy every week that might be possible to make at home and start there. For us, many years ago, that thing was hummus. In our previous guide on how to achieve zero-waste in the kitchen, we promised to follow up with a few recipes and so are pleased to share this one for homemade hummus, a Sustain family classic.
One thing to note is that once you have the process down, customization is endless. Don't be afraid to play!
INGREDIENTS
2 cups of soaked/cooked chickpeas or 2 19oz cans, drained and rinsed (we often substitute 1 can of black beans as a variation)
1/2 cup of parsley, flat or curly (1 big handful)
3 cloves of fresh garlic
juice of 1.5 juicy lemons - add more as desired
2 TBSP hot sauce (we like Frank's)
1.5 tsp ground cumin
1/2 tsp salt
2 TBSP toasted sesame oil +/- to taste (may substitute tahini)
2 TBSP olive oil
1-2 TBSP water
METHOD
Rroughly chop garlic and add together with parsley, cumin, salt, lemon juice, hot sauce and olive oil in a food processor.  Blend to a smooth consistency. 
Add one can of beans and blend smooth.  Add second can of beans and blend to desired texture. Drizzle in sesame oil while blending.  If it is too dry/thick, slowly drizzle in water while blending until the desired texture is reached. 
Adjust any ingredients to taste.