A wild + festive wreath DIY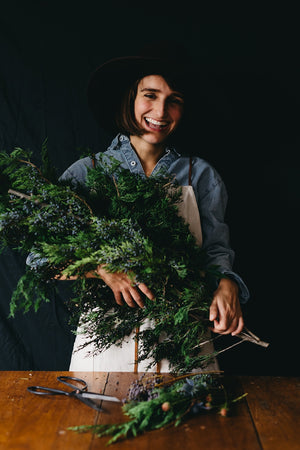 This post originally featured on Pure Green Magazine, a sister company to Sustain. 
NEARLY NOTHING ELSE IS AS SYMBOLIC AS A WREATH to signify that the holiday season has begun—most likely it's the first bit of festive decorating you do! Whether hanging one on your door or your mantle, a wreath is a simple, elegant, and subtle way to spread holiday cheer. We love to create our own each year rather than rely on store-bought versions as it's an opportunity to channel a little creativity and the smell of working with fresh boughs will lift your spirits for certain. Creating your own is surprisingly easy, and don't give up until you've completed it—in our experience even if it looks scraggly or shaggy in the process, it ends up looking pretty darn great and with a personality all it's own when it's done. Trust us, you'll see!
We asked Lauren Wilson of Timberlost & Humblebound, a Toronto florist, to share the basic steps on how to create your own wild and festive wreath and we were so happy she obliged!
materials
Floral clippers
Floral wire
Wreath frame
Evergreen boughs, branches, berries, thistle*
*It's important to choose materials you like. There are no rules here, simply curate the greenery and accents that speaks to you personally. If you are foraging for materials, ensure you are not taking too much from any one source.
method
Start by cutting 4 inch wire pieces so they are ready for you. Next, start clipping down your evergreen boughs so you are working with 8-10 inch pieces.
Starting from the bottom centre point of your frame, tie on your evergreen branches with the floral wire, one at a time. Simply place the branch onto the frame and wrap the wire around the branch twice. End by tying the wire in two knots, wrapping the excess up the branch.
Continue to tie your evergreen branches on to the frame, working in a clockwise direction while overlapping the boughs. If some pieces are undesirably sticking out, tie them down as you make your way around.
Once you have your evergreen foundation mapped out evenly, you can start adding your texture and accents. For my wreath I chose privet berries, blue thistles and branches. Begin by tying them on the same way you did the evergreens, making sure to hide the wire as much as possible. If you are working with delicate or smaller accents, use the floral wire to tie them in a bundle first and then tie them on to your wreath frame.
Once you have secured all of your textures and accents, you have completed your wreath!  You can add ribbon if you wish or leave it completely natural as I chose to.
Hang your wreath in a desired spot and take a moment to congratulate yourself! You did it!
NOTE: Be sure to deconstruct your wreath at the end of the season—compost the greenery and recyle the wire. Keep the frame for reuse next year!
---
CONTRIBUTORS & CREDITS:
LAUREN KOLYN, Editorial: Lauren Kolyn is a lifestyle and editorial photographer based in Montréal and Toronto, Canada. With a documentary approach to her photography, Lauren is a visual storyteller with a unique ability to capture the essence of the moment. Drawing much of her artistic inspiration from the natural environment, Lauren's photographic work explores the modest yet powerful beauty of her surroundings. View her work, follow her on Instagram.
LAUREN WILSON, Florist & Stylist: Toronto based florist, artist, and designer Lauren Wilson practices her love for nature through painting and floral arranging. All of her work is deeply rooted in nostalgia, organic fantasy and reflects the sentiments and grace from wild gardens. View her work, follow her on Instagram.
KAYLA ROCCA, Photography: Kayla is a photographer/artist inspired by culture, travel, people, design, beauty and truth. Her work is heavily influenced by her passion for cinema & story-telling. She is based in Toronto but you can often find her adventuring to other parts of the world. View her work, follow her on Instagram.